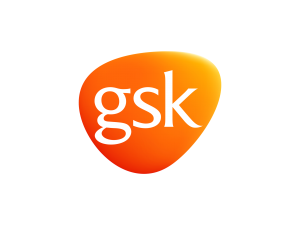 GSK
Topic: Do the work – and with a bold vision.
Energy and Water reduction makes good business sense as it reduces costs while at the same time contributing to a more sustainable business model and ensuring that CO2 emissions from industrial activities are minimised.  A successful programme needs to be adequately resourced and supported by senior management and will adopt a variety of different strategies.  It's important that new facilities and equipment being installed are as energy efficient as possible and an Energy Efficient Design methodology is used for all projects. The adoption of international standards, such as the ISO 50001 Energy Management Standard and the European Water Stewardship, are key to the development of sustainable programmes which will introduce a continuous improvement process. The on-going involvement of all key stakeholders such as employees, contractors and suppliers should also be a key object. Finally, adoption of expensive renewable technologies and the replacement of utilities generation equipment should only be done when wastage of energy or water has been minimised.
GSK has the following ambitious goals for Carbon, Water and Waste reduction by 2020:
•25% reduction in overall carbon footprint
20% reduction in Water Impact (value-chain)
Zero operational waste to landfill
90% of paper packaging from responsible sources
Each manufacturing site is expected to contribute towards the company's goals by taking a proactive approach to Energy and Water reduction. Programme Managers have to be appointed, resources obtained and projects planned.
Since 2009, GSK Cork has delivered a sustained Energy and Water reduction programme which can be seen from the charts below.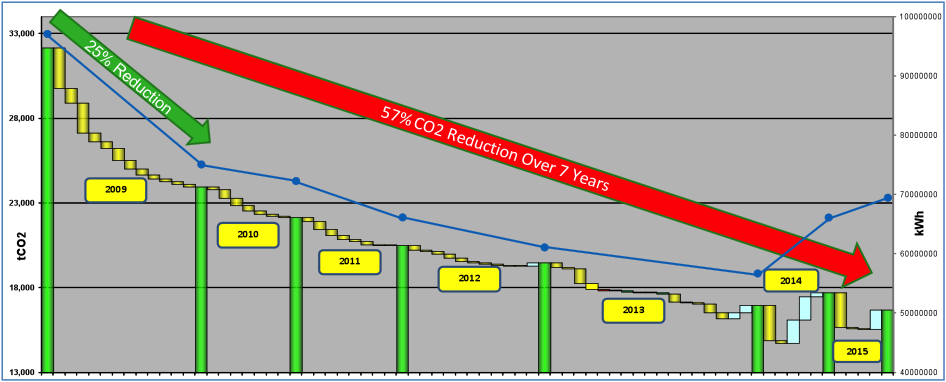 GSK Cork Energy CO2 Reduction 2008-2015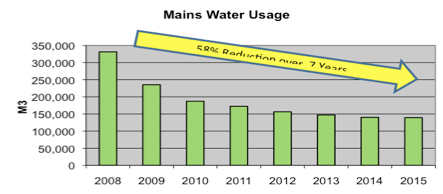 GSK Cork Water Reduction 2008-2015
The sustained Energy and Water reduction over a 7 year period can be attributed to the following factors:
Support of Site Leadership Team
Dedicated resources working on programme
Joined up thinking and good inter-team communication and cooperation
Use of Operational Excellence Tools
Energy Mapping data used to prioritise projects
Good Use of Monitoring & Targeting System
Innovative and challenging approach
Top Down-Bottom Up approach
Performance Management and Tiered Metrics
Devolving responsibility and accountability to key users
Implementation of ISO 50001 Energy Management System
Development of networks within and without GSK
An innovative and challenging approach needs to be taken so that the programme continuously evolves. At GSK Cork we have adopted a range of strategies including:
"Top Down" Energy and Water Reduction Projects
"Bottom Up" Tiered Metrics
Leak Detection and Thermo-graphic  Surveys
Water Usage Mapping
Use of Distributed Control System to automate switch off of equipment
Introduction of Energy Management Standard e.g. ISO 50001
Introduction of Renewable Technologies
An Energy Efficient Design approach should be used for all new projects and this was successfully done at GSK Cork for a new Consumer Health Care Plant in 2012/2013. As this was going to be a high volume plant, a significant energy user, and was to be the first major project since the site achieved
certification to ISO 50001, we wanted to ensure that the project would consider energy efficiency in the design as required by the standard.
It's also very important to ensure that all stakeholders such as employees, contractors and suppliers are actively involved in the programme and a variety of methods need to be used to do this, such as energy awareness campaigns, training on energy and water reduction programmes and reward and recognition.
The external network we have developed over the last number of years includes CIT and UCC for student placement and final year projects. We have also worked as an industrial partner for CIT Masters students and will soon be an industrial partner for a PhD on Water Management. We are a member of SEAI LIEN, a board member of i2e2 and a company member of the Skillnet Lean Water & Energy Steering Group.  As part of the Cork Lower Harbour Energy Group (CLHEG) we worked with other Pharmaceutical and Health Care companies on the planning submission and installation of three 3 MW wind turbines in the Cork lower harbour area, one of which is installed at GSK .
In summary, the sustained success of the Energy and Water Reduction Programmes at GSK Cork cannot be attributed to a single factor but has been due to the synergy of a variety of strategies, methodologies, technologies and standards.  The latest methodology we have adopted is an SEAI Energy Management Maturity Assessment for which we are one of the pilot companies. It can be seen from the sustained success of our programmes that with senior management support, sufficient resources and the development of an effective network that there are significant returns to be gained for the business and the environment.