EM3

Topic:
Why investing in energy efficiency in industrial facilities can be more beneficial than adding generation capacity
Synopsis:
An expansionary climate in Irish manufacturing is a wonderful opportunity to increase energy efficiency within a manufacturing facility, but only if the correct approach is taken. SEAI have the EXEED program which gives financial assistance to companies interested in taking the right approach and using the right methodology – as defined in IS399. The biggest barrier to taking the correct approach is schedule and lack of information. Typically, doing the right thing costs less when it comes to industrial energy and utility systems. Not having the plan in place to meet the increased capacity demands, or not having the information available to allow the analysis to be carried out results in the default – increases in generation capacity.
Takeaways:
In an expansionary manufacturing climate investing in energy efficiency has the potential to solve capacity constraints, debottleneck facilities and increase productivity whilst reducing energy costs for no additional capital.
Process knowledge and timely planning of capacity increases with the facility/energy stakeholders will allow the investment to be channelled into energy efficiency instead of the simple addition of generation capacity.
SEAI and NSAI have provided the tools and the support to foster the implementation of Energy Efficient Design across Irish industry. Industry needs to reach out and accept the support and instil a culture whereby the energy status quo within manufacturing facilities is challenged when a window of opportunity presents itself.
Submission:
The Problem – Capacity Constraint An all too common issue in today's expanding manufacturing environment is the issue of increasing capacity to meet production demands. From an energy perspective expanding capacity means greater pressure on utility systems. The first reaction of most managers is to consider adding more capacity to de-bottleneck, provide redundancy or increase performance.At EM3 we have encountered numerous instances of this over the past few years and we have always take a step back and asked if additional capacity is the right answer. Certainly it is the simplest, most obvious and probably least risky solution, but not the best solution from an investment or cost of ownership perspective.
The Solution – Energy Efficient Design Some of the situations we have encountered over the past number of years which show how applying some focused engineering up front analysing alternative solutions to address constraints show the benefits of such an approach. The approach is common sense, but unfortunately not that common.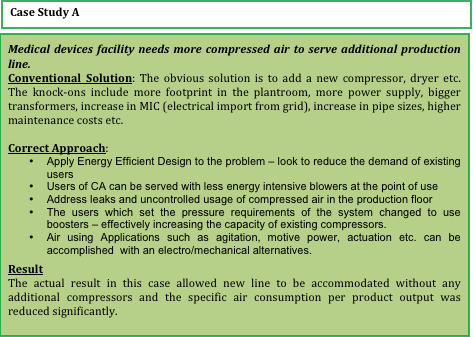 About EM3
EM3 is a specialist energy management company providing consultancy services to large industrial users across the globe. We have 19 Engineers providing energy consultancy, design, project management, construction, commissioning and our unique energy efficiency reporting service.